Welcome to Our Service Department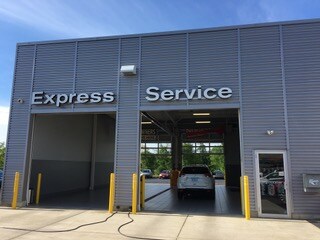 Mansfield Motor Group knows that you want your vehicle to be serviced by the most capable hands, which is why our staff members are Nissan Factory Certified Technicians. Give our service department a call at (888) 378-8940 or visit us in person at our location in Mansfield, Ohio.
If you need another reason to bring your car in to be serviced, we have benefits!
1.  Rewards
·         Every dollar spent at the Service Department saves you money on your next Mansfield Motor Group vehicle, up to $1000! Whoever said that you had to purchase your next vehicle? You can earn it just by doing the repairs and upgrades that you already needed to do!
2.  Warranties and Guaranties
·         We offer warranties and guaranties on many of our products! If you replace your parts with OEM parts, you'll receive a minimum 12 month or 12,000 mile warranty. Aftermarket parts vary. See your Service Advisor for applicable warranties on parts needed for your vehicle.
·         We maintain all copies of your previous repair orders for up to 7 years so that you don't have to!
·         We are able to perform warranty repairs and recalls on any of our 7 new car lines.
·         We work most major aftermarket extended warranties.
3.  Expert Technicians
·         Our ASE and factory-certified technicians win all of our 7 new vehicle lines!
·         Our technicians are continuously being trained so that they maintain their certifications and are always able to provide the best service for your vehicle.
·         Our state-of-the-art diagnostic equipment is one of our many pieces of advanced technology that will assist us in getting your car out on the road again.
·         We use factory-required, special precision tools to properly repair your vehicle.
4.  Complete Service on Every Vehicle
·         Your vehicle, and more importantly, your safety, matter to us, so we go above and beyond to make sure that your vehicle is running properly before you hit the road.
·         We perform a world-class inspection for FREE with any service.
·         We top off your car's fluids with OEM or OEM-equivalent fluids (with any maintenance service)
·         We adjust tire pressures to your vehicle's factory settings (with any maintenance service)
·         We use genuine OEM factory parts (when available)
·         We provide a FREE car wash with every service visit (weather permitting)
·         We check for open recalls with every service visit on any of our 7 new vehicle lines.
5.  Amenities for You, While Your Vehicle is Being Serviced
·         3 comfortable lounge areas throughout the dealership
·         FREE Wi-Fi
·         FREE coffee and hot chocolate
·         FREE daily newspaper
·         FREE shuttle transportation in the local area
6.  MMG VIP Member?
·         See one of our qualified service advisors for exclusive offers and amenities that are offered to our MMG VIP Members. You could start saving up to $3,000 on your next vehicle purchase today. Find out more information about our free MMG VIP Member program through our website or by calling (888) 577-2689.
Our Service Department wants to work with your schedule, so we offer convenient hours that have satisfied our customers so far and we hope will satisfy you.